Published by admin on Tagged
Uncategorized
-
The first official meeting of the Eduverse Organization was held last Friday evening. There was much intense discussion but most people involved seemed to be inline with the Foundation's main goals, which are:
-
1. To promote Virtual Education.
2. To set standards for what should and should not be done in Virtual space.
3. To create tools and interfaces to help facilitate Virtual Education.
4. To explore and promote new technologies which can be leveraged to aid Virtual Education.
5. To create test cases to justify our claims.
-
The Eduverse will serve a vital role in helping to show how virtual worlds can be used for something integral; a new paradigm in education, focusing on science and social learning structures in a game context. We will show that virtual space can actually do hard work by creating unique environments and integrating people in such a way that they can more easily learn difficult aspects of science (through dynamic model interaction), creativity and social collaboration. It will also allow for people from many diverse backgrounds to work towards a common goal. Establishing these principles and detailing user case examples and results is absolutely necessary because it is clear that businesses and the general populace are becoming disillusioned with the lack of progress in virtual worlds; Now that the hype is over, they re looking for a reason to be there and without a reason or a user case model, virtual communities will slowly ebb away and businesses will focus on other technologies.
-
To be successful in virtual space one must offer something unique which has intrinsic value. It is clear that education can satisfy this role and do so in a creative dynamic way.
-
There are many ways to create Virtual Worlds and many platforms/companies are vying to take market share and/or lead the way. At the Eduverse Organization, we are not so concerned as to which virtual world gains wide adoption. We are platform independent for we show how to understand and live in virtual space rather than being at the mercy of the idiosyncrasies of any individual architecture.
-
Anyone interested who feels they have something to offer to the Organization, is welcome to contact me: eduverse at eyestream dot org
We are also planning a meeting in Amsterdam around the time of the FITC (www.fitc.ca) (24-26 Feb), where coders, Designers, Artists and a number of specialists will be present. The precise date of the Foundation meeting has yet to be determined. But I will post it here when it is finalized.
Published by admin on Tagged
Uncategorized
Well it was another interesting night. Ostensibly I went to the Beamlab Meeting in Pakhuis de Zwijger tonight to talk to the AR+RFID people to try to convince them of the value of looking beyond their horizon to work with the guys at Georgia Tech (see previous blog entry) to incorporate their SL/AR client into the AR+RFID technology. I dont know why this is such a hard sell but it seems like SL (Second Life) carries some kind of stink on it, which I dont really agree with, as SL is, at the moment, the only really accessible creative virtual platform available. Luckily there were many others there who could see through SL's short comings to the paradigm beneath. And it was this which I found so inspirational.
-
The guys from SOCO were particularly interested and showed some very nice technology. Their multitouch screen was extremely popular and they were very open to getting people involved etc. The technology is available to play with for free on a daily basis at their studio at Bloemstraat 162 in Amsterdam. Also, they will be making a presentation of the multitouch table on Feb 14 20:00 - 22:00.
-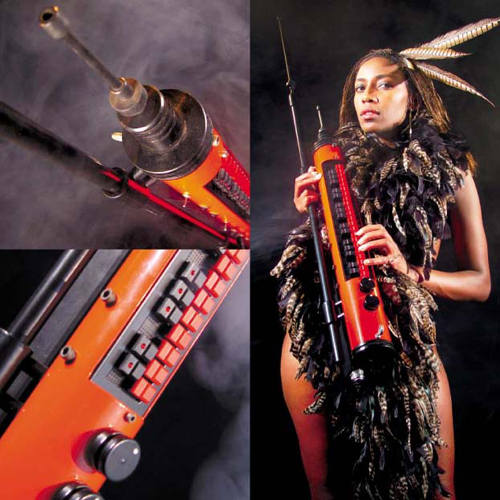 Most of the other performances and talks at the Beamlab meeting were also quite inspirational. I especially liked the work of Piet Jan Blauw. He had quite an oeuvre of work to show and his performance was very well done; an Artist in every sense of the word.
-
All in all, it was a great evening and I will make sure that Beamlab is a regular on my agenda in the future.
Published by admin on Tagged
Uncategorized
This entry is really about me trying to come to terms with the value of virtual space…again.
-
I see many things which can and should be done in virtual space but I see much more a preponderance of wheel spinning. The fact that many businesses seem to be giving up on Second Life (see WIRED article) is evidence that they have not understood the virtual paradigm and this is no surprise to me as I have been advocating a very different approach to what should be done in SL (Second Life) for more than a year.
-
One thing which is clear to me is that virtual space is a perfect place to further education and by this I mean much more than simply repackaging 2D learning in a 3D wrapper. I believe that there are things we can understand more intrinsically if we perceive them in 3D but I will go into more details about this in a future article.
-
To get my message out, I am starting a foundation whose main goal will be to set educational standards for what should and shouldn't be done in virtual worlds.
-
My first assumption is that to give virtual space value, one must offer unique content, something which (to paraphrase Mozes Znaimer) "gives them a reason to come find us". Furthermore I am using the words "unique content" in a very strict sense; what can virtual education offer which cant be found in classrooms, on the web, in videos, etc. and how can one justifying this?
-
I have been sending out this challenge to all the people I know who have some connection to virtual education and have been getting some very interesting responses back. Together with my own ideas, I will use this as the mission statement for the foundation.
-
If anyone who reads this is interested in playing a role in developing the foundation, they are welcome to contact me (Rob Shepherd) via: education at unrealdesign dot org
Published by admin on Tagged
Uncategorized
The Meeting in De Balie last Wed was more of a success that I could have imagined. The credit goes to Jolanda Mastenbroek-Dobber (aka Joja Dhara) and to Maurice (aka Ze Moo) for making it happen.
I was introduced to many interesting and committed people at that meeting and some very interesting technology. The video below is an example, it demonstrates an approach I have been talking about for months. It focuses on integration, breaks through the barriers of proprietary clients and expand virtual space, allowing it to connect with the real world. The people at Georgia Tech have seen this and made a profound step forward. they should be applauded.
Furthermore, I am using the momentum generated from this first SL2RL meeting and taking it one step further by involving some members of that meeting in setting up a foundation whose goal it will be to further virtual education. There seems to be a lot of interest in this plan and this next sub-meeting will be at De Balie on Sun 27th upstairs at 1 pm. All are welcome but it will be somewhat more focused that the previous meeting. On the agenda is direction, division of labour and the technical hurdles of setting up a foundation.
Published by admin on Tagged
Uncategorized
For many, the ultimate goal of Virtual Environments seems to be the faithful reproduction of "reality". From "realistic" looking copies of the Eiffel Tower to "realistic" avatars of famous people; from NASA's reproduction of the Victoria Crater to the game maker's goal of more realistic blood and guts, the real value of virtual environments seems to be overlooked.
I claim it is NOT what makes these environments look and feel like the"real" world which is valuable but that which makes them more unreal.
Part of the reason for this is that I don't think we know what reality is (thus the quotes). Think about it. Are dreams real? Is your imagination real? Are your feelings real? Are subatomic particles real? Is quantum entanglement real? Of course they are but aren't they significantly different than the reality of an ordinary object, say a brick laying on the ground? The brick is clearly real and significantly more tangible than a dream but then again, what does one really know about the brick? Perhaps, it's enough to know that its heavy and is useful as a door stop. But think for a minute about all the things one doesn't know about the brick: where it was made and by whom, how old it is, what chemicals were used in its production, the number of people who've walked past it today, what its original destination was, etc. In fact there is an almost infinite number of facts which one DOESN'T know about it. Considering this, while we may consider the brick to be "real", quite clearly, we know very little about its reality and I believe that understanding this difference and addressing it in a virtual context is key to creating value in Virtual Reality. I am not willing to be satisfied creating what already exists elsewhere in a superior form; Virtual Reality is not the poorer cousin of the "Real" World, it is a place for creative imagination, a place to push the boundaries and go beyond, to experiment and do real Science. So much of Science relies now on modeling, what better place than a shared virtual world to experiment and explain in. It wont be very long before Nanotechnology makes the objects in our real world environment much smarter. How will we deal with this? Wouldn't it be valuable to have a virtual environment to test what effects it could have? To determine what kind of interfaces and tools we might wish to make? To establish communication/education tools to deal with it before it arrives on our doorstep?
As a virtual designer, I have been paid to create that which is both very realistic and very unrealistic but for the most part I see that businesses and individuals are easily seduced away from the greater goals which are possible only to be left with a somewhat hollow experience inside a poorly depicted representational world. If even a small percentage of the money and effort went towards the creative/unreal side, I believe that it would be greatly beneficial and would establish those few as the real visionaries in the virtual world and virtual visionaries in the real world.